Immigration crackdown, travel ban and Russia links intrude on Trump weekend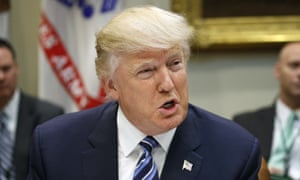 Excerpt taken from THE GUARDIAN.
"Concerns over Trump's ties to Russia have increased following what US intelligence agencies believe to have been an attempt by the Putin regime to influence the election on Trump's behalf.
"Trump, who has accepted such beliefs but also used the issue to stoke discord between the White House and the intelligence agencies, has long viewed Putin through rose-colored glasses, telling Fox News host Bill O'Reilly in an interview aired last Sunday: "I do respect Putin."
"When O'Reilly noted that Putin was "a killer", Trump responded by saying: "We've got a lot of killers. What, do you think our country's so innocent?"
"That statement brought condemnation from major figures in both parties, appalled that a president of the US would suggest moral equivalency between his country and an authoritarian regime.
Read the complete article at The Guardian…
Related reading…